CATHEDRAL
MASS SCHEDULE

Daily Mass:
Tues., Thurs., Fri. 8:00 am
Lauds at 7:45 am
 

Wed. &

Fri. 5:30 pm


Vespers at 5:15 pm


Saturday:  
4:00 pm (English)

Sunday:   
7:15 am (English)
9:00 am (English)
            11:00 am  (Vietnamese)



Holy Days of Obligation:
Holy Day Vigil:  5:30 pm Cathedral

 Holy Day:  8:00 am  Chapel
                         5:30 pm Cathedral

 RECONCILIATION

Any time by appointment


Click here to

Cathedral Sunday "RED" Dinner

February 14, 2017

Rogalski Center, St. Ambrose University

$65 per person/$520 per table of 8

SACRED HEART SCHOOL ALUMNI!

If you missed the meeting on January 18 but would like to help with the Reunion, please call the office at 563-324-3257.

If you are interested in Alumni updates, please sign up for our Alumni database:  SH ALUMNI
Construction of our new Diocesan Center has begun.  During this process, the west and north sides of the Cathedral are fenced off and inaccessible to the parish. 
Click here for information on parking options and access to the Adoration Chapel:
CONSTRUCTION
Click the Photos tab below to view pictures from our Ground-Breaking ceremony and also pictures of the ongoing construction.  Architectural drawings and other information about this project may be found on the
Diocesan Hall Construction
page.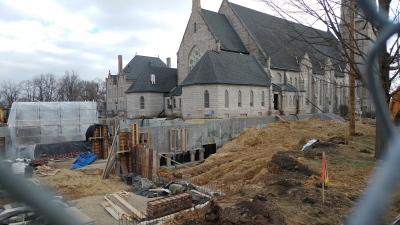 Click here first to purchase items on Amazon.  A rebate will come back to our parish in the amount of 6% of our purchase.